I've seen these adorable cake stands, that people use for their soaps and sponges, all over
Pinterest
.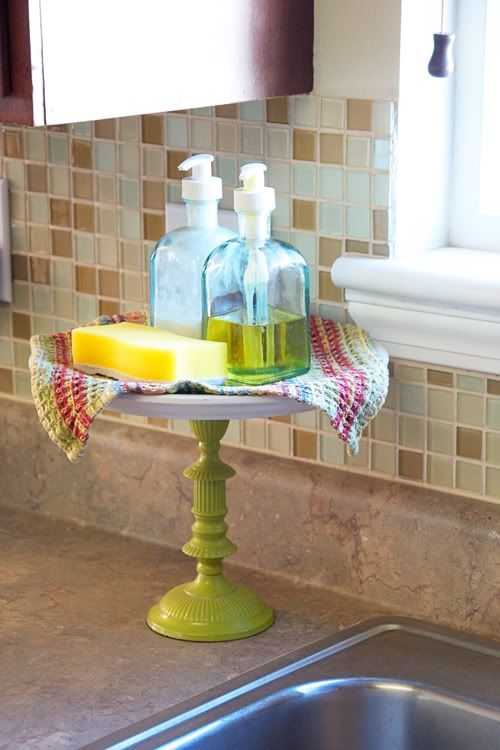 After reading about them, and looking at instructions on how to make them, I realized one thing- these would not last a DAY in my house! All the instructions said to use just a standard high heat hot glue gun. Now I don't know about you, but I have never had much luck in having an item, that I glued with the hot glue gun, stay together if it was used for any length of time. Sure, I've used them for art projects, wreathes, etc. but I don't touch those items everyday. After talking with my husband, here's what I did to make sure that my own cake stand stand together!
First thing I did was go to my local Dollar store and buy 2 glass plates and a glass candle stick. Total for all was $3. I brought them home and cleaned them thoroughly with rubbing alcohol to remove any residue that might hinder the glue from sticking. Then, and this is the most important part, I used an
industrial strength
glue gun, that you can get from Lowe's, or any hardware store. This is important, because these glue sticks are meant for heavy duty repairs- like glass, wood, or anything else. And, because it's heavy duty it lasts longer then the standard glue guns you can buy at the craft store. I put a thin bead on the narrow top of the candle stick and let it sit for about 10 seconds, then pressed it to the bottom of the top plate. The seal was immediate and strong. I decided against gluing the candle stick to the bottom plate, as I wanted to be able to clean that plate regularly. I use it to store my sponges, and it gets residue on it frequently.
Seriously that's it. I used industrial strength hot glue and glued the 2 pieces together. I would advise against washing the top plate and candlestick in water, as the water may cause the glue to come unfastened. You can clean the plate and candlestick with rubbing alcohol or glass cleaner.
I really like this space saving device. It keeps my sink clear of soaps and sponges and looks really nice!
Until Next Time,
In2Kermit