Awhile back, I was looking thru Pinterest, and saw the cutest idea.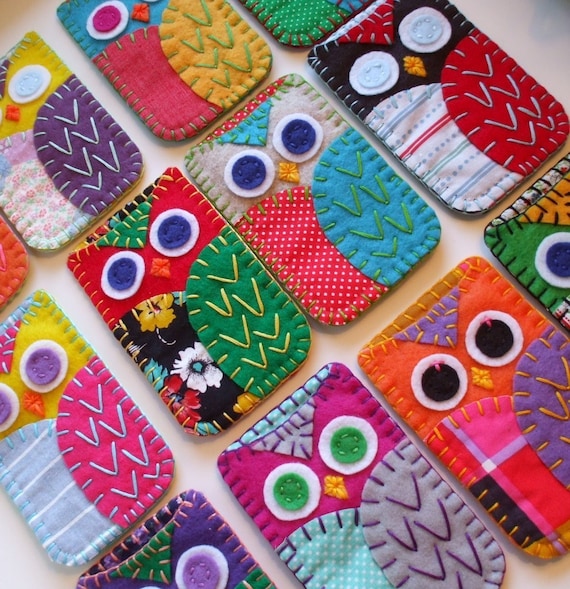 This lady had made a cell phone case, and it looked like an owl! But, this gal also wanted $22 for it! It's cute, but not THAT cute! I looked at the picture, and thought "Hey, I can make one!", so I did!
*My apologies, I don't not have pictures of the during process. I get into my crafting, and forget the world exists.*
I decided to make an owl for my camera. I measured my camera, and cut out a piece of felt that was slightly larger all the way around. I then drew out my design, and cut out the pieces, and stitched them on the front panel of the camera case. Then, I stitched the whole thing together. Not too hard, but I wasn't completely thrilled with it.
While looking at my new creation, I wondered what else I could make out of it. I then thought about using my Cricut to cut out pieces of something, and stitch those into a little pouch. Now I realized, to late, that I didn't have the correct blade to cut felt. But, even though my Cricut didn't cut the felt out, it did mark the design enough so I could cut it out by hand! I decided that the little bird would be the cutest case for my MP3 player!
Once again, no pictures of the process (I promise, the next time I make something, I will give detailed step by step pictures). All I did was decided what 3 colors of felt I wanted the bird. I placed the felt on the cutting mat, and dialed it to the largest size possible, and cut. Once it was scored for me, I cut it out by hand. I did this process 2 other times, following the steps to make a paper bird, on the back of the cartridge. Then, I hand stitched the pieces together. Because it was so small, I didn't think I had enough sewing skills to trust myself to using the machine. I'm thrilled with it!
Well, after that, I decided I wanted to make one for my phone. As a MAJOR Robert Jordan fan, and his Wheel of Time series, I made this. I used double felt thickness, to protect the screen, and hand stitched and embroidered everything. It's used all the time!